Whiskers and Wags Pet Sitters values your patronage and your pet's well being.  We want to show you our appreciation with a Coupon for any service you like.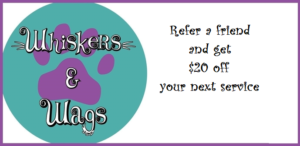 If you're already an existing client, you can get $20 off your next service by referring a friend! Share our website and contact information and when your friend books, make sure they mention who they heard about us from. Once they've booked a service with us, you'll receive a coupon in your email for $20 off any of our services.
Are you a new client, or interested in learning more about Whiskers and Wags? Want to schedule a Meet  and Greet, so we can get to know you and your fur baby? Just sign up now and get $20 off your first Service.